Lottery syndicates have been around for a while. People who work together, friends or family members have been pooling money to buy a large number of lottery tickets together and stand better winning odds in the draw. While some of them ended up doing it just for fun, for others, this strategy proved to be successful, turning them into millionaires.
US Powerball Jackpot Winning Syndicates
US Powerball lottery's mouth-watering jackpots are a magnet for this giant American lotto's fans, and hitting one of these amazing prizes is any player's dream. Here are some of the lucky ones who not only scooped the US Powerball jackpot, but they did it together with a group:
The Power Pack – $731.1 Million – January 20, 2021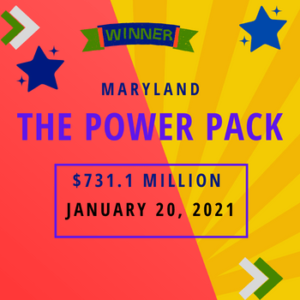 The Power Pack are a group of Powerball fans who purchased their tickets in a coal-mining town in West Maryland. As the state of Maryland allows lottery winners to remain anonymous, we don't know any details about the lucky winners, not even whether they are locals of the small town of Lonaconing.
But, they will remain in the history of the Powerball lottery as winners of a mouth-watering jackpot. The advertised amount was of $731.1 million. As the winners decided to claim their prize as a lump sum, this brought them to $546.8 million before taxes. This translated into about $366.6 million after federal and state taxes.
Anonymous Family Syndicate – $487 Million – July 30, 2016
Another lottery pool that decided to remain anonymous comes from New Hampshire. The family members ticked the "no publicity" and decided to keep their identity away from the public. Therefore, the only details we have about them refer to the amount they were luck to win: $487 million.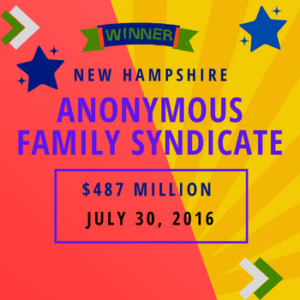 Upon prize claiming, the family's lawyer, William Shaheen, told the press: "There couldn't have been two better people or a better family to win this money. They're going to do great things with it." As it turned out, this was quite accurate. Right after their got their money, the New Hampshire family donated a generous $100,000 to the End 68 Hours of Hunger foundation.
Tennessee 20 – $420 million – November 26, 2016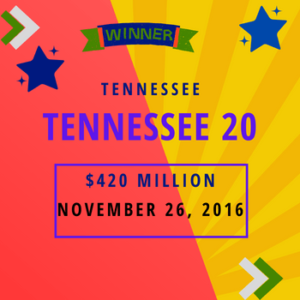 Tennessee 20 is a group of co-workers from the sales and quality control departments of North American Stamping (an auto parts manufacturing plant in Portland, Tennessee). The winners come from 13 different cities in the mid-south, but from November 2016 on their lives have been connected forever. They split the $420 million jackpot between them, after playing the lottery together for years.
The Shipping 20 – $241 million – June 13, 2012
Back in 2012, a group of 20 co-workers from the shipping department of Quaker Oats Co. cereal plant, in Cedar Rapids, Iowa shared the $241 million jackpot the US Powerball lottery delivered on June 13. The lucky Powerball fans who dubbed themselves The Shipping 20, hoping to keep their identities private, had been playing together for years. Each of them contributed with $5 and they only played when the jackpot was reaching $100 million. They chose to receive the jackpot as the lump-sum option of $160.3 million, each of them pocketing a final net amount of $5.6 million.
What were their plans for after the win? Most of them said this was their chance for an early retirement. Others spoke about helping their children and family. Some of the syndicate members had hesitations about leaving work. Al, 61, was the one in charge of buying the tickets. He felt bad for the company and decided to stick around for a while, saying it was a busy time of the year. Mike, 55, planned to continue working and not rush into any big decisions.
Ocean's 16 – $149.3 million – August 7, 2013
The 16 co-workers from the Department of Vehicle Services in Ocean County, New Jersey have really made it! Their ticket was one of the three that matched the winning numbers of the US Powerball draw of August 7, 2013. This brought them a third of the $448 million jackpot with a cash value of $258 million, pocketing an awesome amount of over $86 million before taxes. With Federal Taxes at 25% and NJ State taxes at 3%, each member of the winning US Powerball syndicate received a check for $3,872,445.94. This might not seem like much for a jackpot winner, but it was a life-changing amount for these "hard working folks and reliable employees", especially that some of them had been victims of Superstorm Sandy.
FlaMass Family Joint Venture – $148.8 million – April 23, 2014
If most syndicates are made up of people working together, this story ties the members of the Centrella family (Louis, 72, of Daytona Beach; Suzanne, 54, and Christopher, 39, of Naples). They decided to get the $148.8 million US Powerball jackpot as a one-time lump-sum payment. This meant a net amount of almost $87 million.
SEPTA 48 – $107.5 million – April 25, 2012
Bryant Vaders was in shock when he called his colleague and fellow US Powerball syndicate member Pamela Schurgot to tell her the jackpot was won on a ticket sold at the exact same selling point where he had purchased 120 quick-picked Powerball tickets for his office lottery pool just before the Powerball draw of April 25, 2012. The shock was even bigger when Pamela checked the tickets to find out that they really won. The Pennsylvania Lottery officials confirmed it: the syndicate of co-workers from Southeastern Pennsylvania Transportation Authority (SEPTA) were the jackpot winners. The $107.5 million was theirs!